Scroll down for the recipe ;-)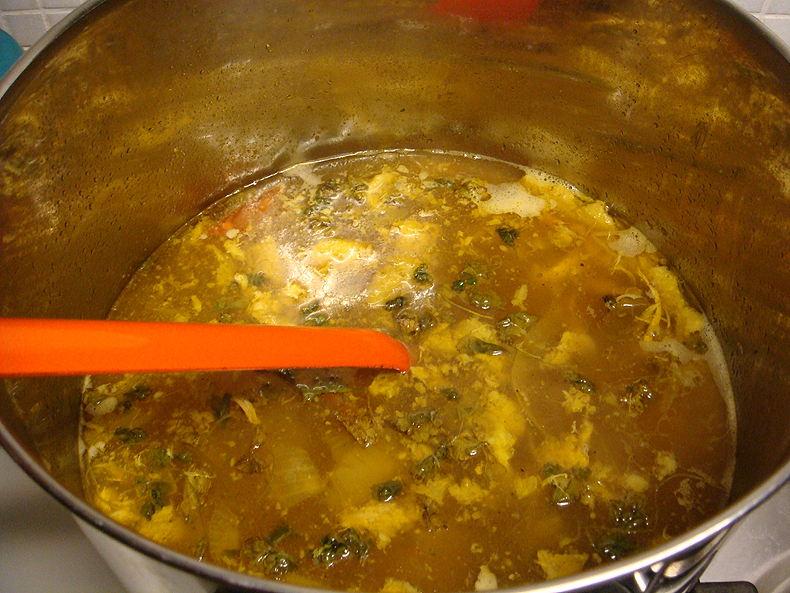 This time I used poached eggs instead of boiled ones.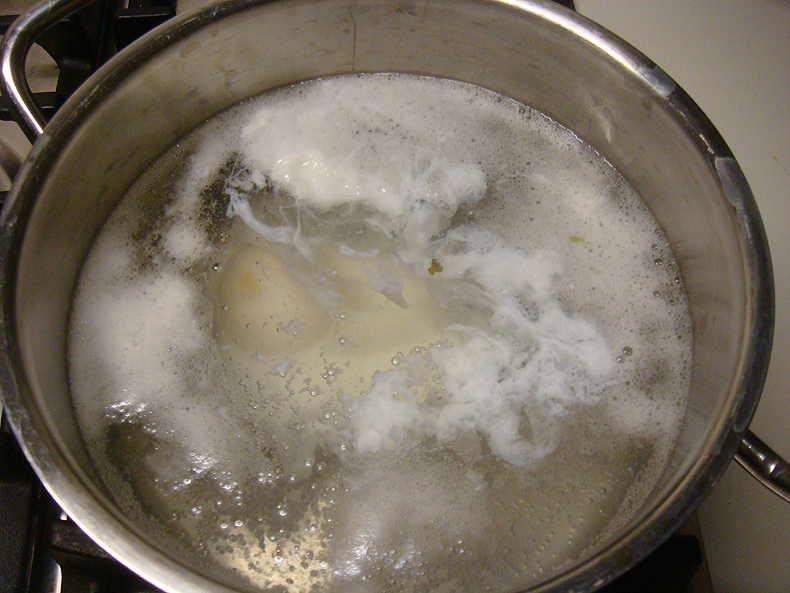 Recipe soto ajam
I try to perfect the soto ajam recipe I use. Every time I make my soup a bit different, but I think it's good enough to share the recipe with you, now. Are you a fan of soto ajam too, let me know how you make it. ;-)
Ingredients:
one whole chicken
eggs (an egg a person)
potatoes
rice noodles
parsley
coriander
beansprouts (tauge)
bouillon cubes
lemon grass
djeruk purut
ginger powder
turmeric
4 gloves of garlic
2 onions
1 tomato
dried fried onions
cocos-peanut mix (serundeng)
ketjap manis (sweet soy sauce)
lemon
Preparations
I start one day in advance. I boil water in the water cooker and put the chicken in a big pan. Then I fill it up with the hot water, until the chick is just beneath the surface (or almost). I crush the lemon grass (sereh), take two cloves of garlic, one onion, a tomato (for the color) and about four purut leaf (djeruk purut). It looks like laurel. I boil the chicken together with all the herbs, for about 10 minutes. Then I kill the gas and leave it, with the lit on, for one night on the stove.
In the meantime I also boil the potatoes, just for a minute or two and leave it with the lit on until the next day. This is also a nice energy saving tip.
The next day I get the chicken out and take out all the bones. I rip the meat in little pieces (with my bare hands), because I want to fry it.
I put on the gas and start to heat the soup until it boils.
I fry one onion and two gloves of garlic together with the meat. I put in two teaspoons of ginger powder, sereh powder and four teaspoons of turmeric (kunjit, curcuma).
In the meantime I boil about eight potatoes and some eggs (an egg a person). I cut the coriander and parsley.
When the soup boils I reduce heat and let it simmer. I use chicken bouillon cubes to let the soup taste nice and a bit salty.
I boil up some water and poor it over the rice noodles. A minute in hot water and the noodles are ready.
When I serve it, I put every ingredient in a nice bowl and put it all on the table.
sliced eggs
rice noodles
parsley
koriander
beansprouts (tauge)
dried fried onions
cocos-peanut mix (serundeng)
ketjap manis (sweet soy sauce)
slices of lemon
sambal
When you eat soto ajam you can make your own combination. Put everything you like in your bowl and pour over the hot soup.
Selamat makan