Scroll down for the recipe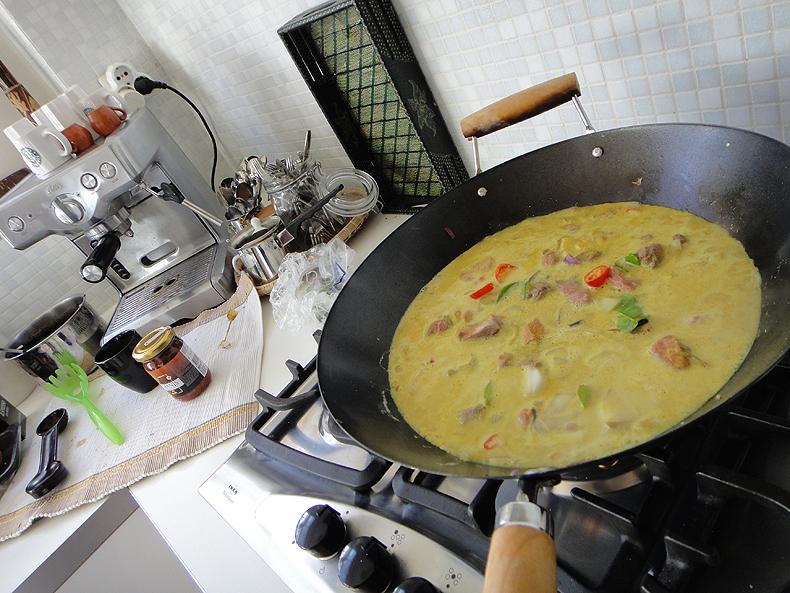 Ingredients:
1 kilogram beef
1 lemongrass
5 djeruk perut leaves
salt
750 ml coconut milk
oil
vinegar
4 shallots
4 cloves garlic
1 tsp. ground turmeriek (kunjit)
1 red chillie (Lombok)
6 cm fresh ginger (djahe)
5 cm laos (or laos powder)
Preparation:
Cut the shallots and garlic and fry in a pan together with the turmeriek, the Lombok, fresh ginger and the chillie. Then cut the beef into cubes approximately 4x4 cm and bake it together with the shallots.
Than pour the coconut milk over it, add the lemongrass and the djeruk perut leaves together with some salt and 3 table spoons of vinegar. Boil water and add some until the mixture is under water.
Allow to simmer on low heat for 2,5 to 3 hours. Continue stirring frequently.
The dish is ready until the meat colors dark yellow and the mixture is thick and gentle.
It's lovely with pandan rice and a fresh vegetable dish (cucumber for instance).
Selamat Makan!